First of all, well done to Jon for winning the Blackpool event after beating Eric McAlpine in the final.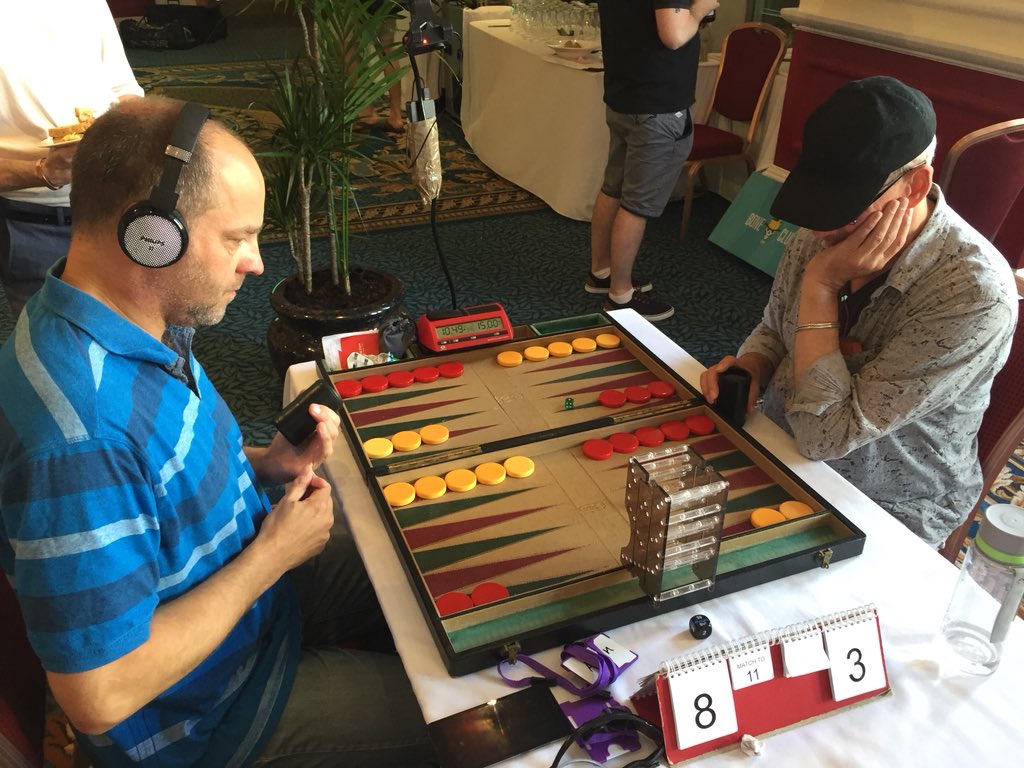 The weekend started at 2pm Friday with 64 players turning up to contest the first Freeroll of the weekend. Later that afternoon Steve Bibby ran his new and innovative "Rebuy Blitz". Moving into the evening we had a total of 91 players across two events.
Saturday saw the start of the main event and 120 players fighting it out over 5 swiss matches to get into one of the 32 qualifying places up for grabs.
Saturday evening and with the main event 32 knock-out contestants all decided, players could take time to relax – however many chose the option of the Jackpot, Poker, Saturday night triples, Super Jackpot or into town to sample the local delights.
Onto  Sunday and things get serious with the final 32 facing a straight knockout with the rest of the players entering the Fylde Trophy and finally the Lancastrian Cup.
Throughout the weekend we had two charity board events ongoing plus a Nackgammon event. In addition to paying out £16,000 to players, we raised £1500 for
MIND
and £500 for the
Lifeboats
.
After a hard fought day we end up with two of the best players in the UK going head to head in a hard fought final with Jon claiming victory over Eric.
The Blackpool team would like to take this opportunity to thank everyone for their continuing support at this event. We did try some new things this year and they seemed to be well received.
With attendance growing every year we anticipate that next year may sell out. Registration for 2019 – to be held on the 7th-9th June – is now open and those who pre-register will be given priority when payment is required next year. This can be done by contacting Kev or me direct or by emailing us at 
blackpool.imperial.cup@gmail.com.
Full results :-
OPEN (120): 1-Jon Barnes, 2-Eric McAlpine, 3/4-Frank Fleming / Julian Minwalla, 5/8-Martin Barkwill / Cristian Cozos / Simon Hopper / Masoud Poursina.
FYLDE TROPHY (107): 1-Mark Manley, 2-Rachel Rhodes, 3/4-Dave Pritchard / Graham Read, 5/8-Reza Aghdam / Simon Cocking / Keith Gill / Davd Sanders.
LANCASTRIAN TROPHY (64): 1-Shea Mulhall, 2-Simon Morecroft, 3/4-Christoph Deiter / Chris Derry.
SUPER JACKPOT (9): 1-Gaz Owen, 2-Chris Rogers.
ERHAN 869 BOARD CHARITY TOURNAMENT (64): 1-John Wright, 2-Dave Motley, 3/4-Fak Laight / Simon Morecroft.
ANDREW PINKUS BOARD CHARITY TOURNAMENT (64): 1-Tim Line, 2-John Wright, 3/4-Catalin Bucur / Anna Price.
BONE CLUB CHARITY NACKGAMMON (32): 1-Tim Line, 2-Peter Bennet.
FRIDAY FREEROLL I (64): 1-Jysen Quah, 2-Peter Snape.
FRIDAY FREEROLL II (55): 1-Ann Pocknell, 2-Anna Clarke.
FRIDAY NIGHT JACKPOT (36): 1-Chris Rogers, 2-Rob Perry.
SATURDAY NIGHT JACKPOT (11): 1-Vincent Nolan, 2-Steve Carder.
TRIPLES (12 teams): 1-Mike Ireland / Sue Keeble / Simon Morecroft.
RE-BUY BLITZ (41): 1-Steve Lee.
POKER (22): 1-Gary Bratton.