Although not on the scale of our major tournaments, the annual Mind Sports Olympiad – held at JW3 in Finchley Road, London for the last three years – is steadily growing in its backgammon offering. This year they invited me to be arbiter for the four daytime sessions, and I took up the challenge…
The four days are all Swiss tournaments with varying match lengths, from 3-pointers up to the most serious one, the Olympiad Championship with four 11-point rounds. They sit alongside two evening sessions which feature 1-point shootouts and a variant – last year Nackgammon was the chosen alternative, this year Plakoto. There is also an interesting mixture of players each day; some are regulars who play as much backgammon as they can, some are leading players who want a relatively light warm-up tournament in the run up to the UK Open, some are taking a day of backgammon as part of MSO's flagship Pentamind contest, where you need to maximise your aggregate rankings across five different games over the course of the event, and some have just come along to find out more. There is no prize money on offer for any events involving any element of chance, sadly, but there are rather attractive medals on offer plus the honour – and some UKBGF ratings points as well!
This year we were around 12-15 players for the three smaller sessions, and 19 on the final day for the long matches. That may sound small but it's a substantial increase on last year. MSO allows arbiters to take part in the events as well (with an independent chief arbiter who can rule on anything involving the event arbiter) – I definitely think that 16 is about the point where you need someone who is not playing to answer all the queries, from resetting clocks to the Crawford rule to the minimum standard of shaking, especially as not everyone is familiar with all the higher-level tournament etiquette. Also, with competitors from many countries, there can be difficulties in language and you need a cool head to be in charge… if anyone is interested in getting started as a tournament director in a relatively small setting, there's an opportunity here!
MSO also features a learn-to-play room where teachers and games designers introduce people to their various games – traditional, modern, and some untested – between rounds and over meal breaks. It would be great to have someone representing UKBGF there for a day, if there are any volunteers for 2018?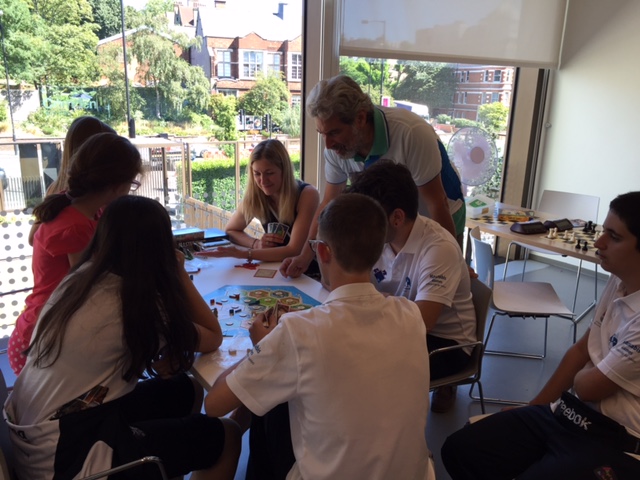 Small Swiss tournaments tend not to produce clear results even with tie breaks based on opponents' wins, so there's not a neat gold-silver-bronze each day! Fortunately each gold was unambiguous, and apart from the 8x3pt Swiss, the gold winner was undefeated through the day:
Tuesday: 6x7pts
Gold: Mahmoud Jahanbani
Silver (tied): Morris Rashty, Julia Hayward
Wednesday: 6x5pts
Gold: Julia Hayward
Silver: Andrew Selby
Bronze: Morris Rashty
Thursday: 8x3pts
Gold: Morris Rashty
Silver: Mahmoud Jahanbani
Bronze: Simon Morecroft
Friday: 4x11pts Olympiad Championship:
Gold: Anna Price
Silver (tied): Dario de Toffoli, Ali Hassannia, Michael Flesch
In 2016 Mahmoud swept all the gold medals – it was great this year to see a number of new faces, including juniors, and to see the prizes spreading around a bit! One day remains, and I shall be taking a well earned leisure break playing Countdown. Maybe practising for the numbers rounds will make my pip counting faster? I can but hope…
There was also a documentary crew present through the week, who interviewed a few of the backgammoners – when we know a transmission date, we'll pass it on.