We returned to the historic setting of Coombe Abbey for another intense weekend of backgammon, and it was certainly a memorable time – helped along by some glorious weather allowing plenty of al-fresco games in the extensive gardens…
This year we were delighted to add the Paul Gilbertson Memorial Trophy as an extra event, with a Bone Club board as a prize, starting Friday lunchtime for the really early birds – and it fell to me to kick off proceedings with the first one-pointer just a shade after 1pm. As players started to arrive, we kicked off some satellite jackpots (to win your entry into the main event) and by mid-afternoon the upstairs playing room was already filling up nicely.
Come 5pm and the second UKBGF AGM. It was very pleasing to see thirty or so people come along to hear from the Board, and put questions to them. While last year was dominated by ratings, this year's discussions centred on electoral systems, future plans for the Clubs Championship, and how to get more beginners and intermediate players at our events. A lot of good ideas came out of the meeting and plenty of food for thought for the next Board.
We could have gone on much longer but by then our special guest, twice-world champion Akiko Yazawa, had arrived and was waiting to host a private dinner for twelve of our players…
Meanwhile, the Chairman had forgotten which hotel she'd booked into and had a very hurried trip into the centre of Coventry and back, just in time for the Warm-Up, already full up at 64 players. With so many playing, it was inevitable that we'd be going deep into the night. The night owls got to the quarter-finals before sleep intervened…
Our Saturday kicked off in a somewhat unconventional manner – backgammoner Phil Tutchings is also a local historian, and gave a seminar about the history of Coombe Abbey. It was fascinating to understand more about the Abbey's past and how it came to be the venue it is now – many thanks to Phil for a very illuminating half hour.
Once we'd got the inevitable notices done, and a couple of presentations of outstanding trophies, we had two large rooms full – 78 Masters upstairs playing a straight knockout and consolation (the double-elimination format having caused time problems in the past), while downstairs 55 Advanced players were playing a Swiss to set up knockouts for the next day, and 10 Social players in an all-play-all round robin. The Advanced players were using Mark Calderbank's very successful software and results slips, as used before in Blackpool, which meant the usual scrum around the TD's table was prevented!
The fickleness of the dice was showing early as many of the favourites had early exits – the first round despatching Akiko, tour leader Jon Barnes, #1 Tim Cross, and previous winners Richard Furborough and Dave Pritchard, with no route back via the fighters bracket.
Most tournaments see the TD called upon to make rulings and the majority are covered reasonably straightforwardly by the rulebook. TD Peter was therefore somewhat surprised to be summoned to a dispute about ducks – specifically, some of Tim Line's souvenir mascots were causing his opponent to cry fowl. Were they causing a distraction? Could they be sent away from the playing area? It's not easy to ruffle Peter's feathers, though, and we now have a precedent – "as long as the ducks don't quack, they can stay".
Our first winner was Paul Ball – winning the Saturday Social Swiss. This turned out to be a really substantial tournament, with our ten players fighting it out for five hours! We were delighted to present Paul with a special Geoffrey Parker doubling cube as a prize, and we hope to see some of our Social players moving up next time!
On Saturday night the doubles started, and again a big field with 27 pairs meaning a very late finish once again. By this time we had the main tournaments trying to get to their designated overnight stopping points, a very large Super Jackpot, and one-pointers in both divisions; a lot for our TDs to juggle.
One good way to get backgammon players up early on a Sunday morning is to dangle the carrot of an expert seminar in front of them, and we were delighted to once again feature Julian Fetterlein, this time talking about "The Three-State Solution" – which should be online for members in the near future.
We then had the British Backgammon Awards – which I've already written about – although no-one had tipped off our special guest to be there early, and as she was one of the award winners we couldn't really start without her! Cue some frantic searching… fortunately we got underway not too late, and with only one award in absentia. I could sense that the players were keen to get going again, and Peter and Raj eyeing the clock and the very large fixture list…
While the Masters were finding it rather warm upstairs in the heat of the Sunday, the second Social Swiss in the shade downstairs was another hard-fought round robin of cubeless three-point matches, and this time it was Jo Foster who came out on top – although it had to run right to the end as some others were very close behind!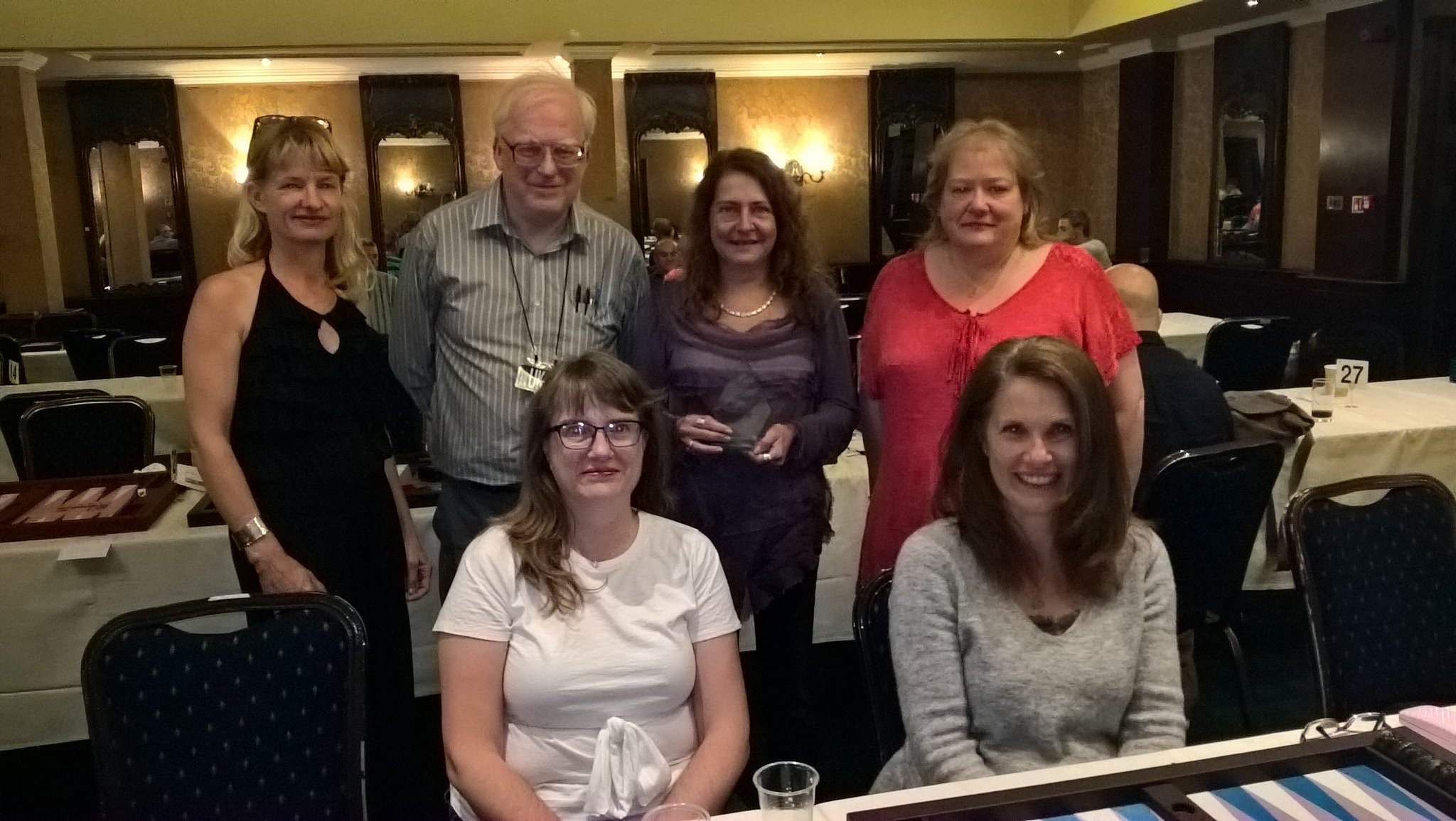 The afternoon sun and long schedule were clearly having a draining effect on the players who were still in – one should never underestimate how much a major tournament is a test of stamina and concentration as well as skill at the game – and it was early evening when we had our Final. David Brown and Mihai Arminia went off to the streaming room and came to a deal for the prize fund, and then because of the time played a somewhat shorter match than the anticipated 15-pointer for the Geoffrey Parker board voucher. The final turned out to be a very one-way affair, David winning 7-1… and so we have a new UK Open Champion. Many congratulations to all our winners, and thankyou to everyone who came for making it a superb celebration of backgammon. And a very special thankyou to Raj, Peter, Paul and Mark for directing everything so smoothly, and all the helpers behind the scenes who made it possible.
For those who couldn't make it, have a look at David Startin's album of the weekend for a taste of what you missed!
Masters (78):
Champion: David Brown
Runner Up: Mihai Arminia
Consolation winner: George Papazogolou, runner up Stuart Mann
Abbey Cup winner: Tim Cross, runner up Kimon Papachristopoulos
Advanced (55):
Champion: Ben Owen
Runner up: Phil Tutchings
Consolation winner: Adam Taylor, runner up Donna Sherred
Abbey Cup winner Ana Mancino, runner up Chris Harper
1-pt KO: winner Shay Shannon, runner up Ana Mancino
Social Swiss (10):
Saturday Champion: Paul Ball
Sunday Champion: Jo Foster
Paul Gilbertson Memorial (64):
Winner: Tim Parfitt
Warm Up  (64):
Winner Laurence Sinitzky, Runner up Dale Taylor
Super Jackpot (22):
Winner Sebastian Wilkinson, runner up Sergiu Malis
Doubles: 
Winners: Alain Babillon/Laurence Sinitzky, runners up Mihai Arminia/Alexandru Barbu